About Kaplan International English
About Kaplan International English
The World's English School
We believe in the power of language education to build connections, forge opportunities and enrich lives.
We offer fully immersive courses in spectacular English-speaking locations across the world.
Let us help you go further with English
CONTACT DETAILS
THE KAPLAN DIFFERENCE
Kaplan students learn not just in the classroom, but out in the world through exploration and adventure.
2
UNFORGETTABLE
EXPERIENCE
3
OUTSTANDING
ACADEMIC RESULTS

Camilla Borini
Studied in Liverpool
"My English course at Kaplan changed my life. One year later, I'm living in Zurich, working for an American company – one of the biggest in the world in its field! Thanks to my improved English, I've had the opportunity to move abroad, advance my career and, most importantly, meet people from different countries and cultures – that's the most amazing part of speaking the 'language of the world"
ENGLISH - THE LANGUAGE OF OPPORTUNITY
English is spoken by a quarter of the world's population. Empower yourself to share ideas, build relationships and pursue success across national borders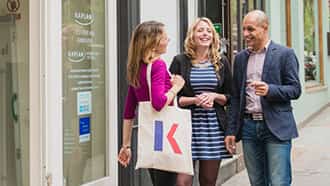 PROFESSIONAL
English-speaking jobseekers have greater access to careers in international businesses and organizations, and can earn up to 50% more than their peers.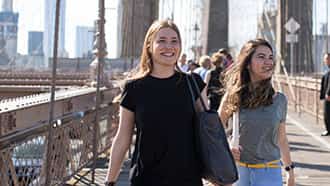 PERSONAL
Learning any language is a fantastic accomplishment, but with English, you can travel the world for work or pleasure, and make yourself understood almost anywhere.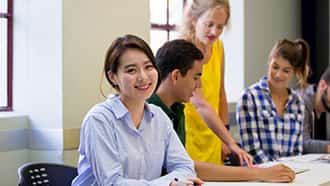 EDUCATION
As the international language of academia, English lets you access the best research in every field. All but one of the world's top ten universities operate in English.
How we teach
"Immersion students surpass all others in the acquisition of foreign language skills."
– Dr Myriam Met and Eileen B Lorenz
Our immersive courses plunge you into the living language. Learn through expert tuition, unique study materials, and fun excursions in a fascinating English-speaking culture. We guarantee that you will improve one level of proficiency every ten weeks on selected courses in the US, UK, Canada and Ireland. If you don't, we'll even give you four weeks of extra tuition free. (Terms and conditions apply)
0-10 WEEKS
Beginner
You know a few simple words and phrases, but you have a very small vocabulary and can only communicate basic needs.
10-20 WEEKS
Elementary
You have some understanding of grammar and a growing functional vocabulary. You can speak and write basic sentences.
20-30 WEEKS
Lower Intermediate
You can participate in simple conversations, read longer texts and write short compositions.
30-40 WEEKS
Intermediate
You can participate fully in more complex conversations, read more advanced texts and write a simple essay.
40-50 WEEKS
Higher Intermediate
You can handle most social and professional situations, explain complex thoughts fluently, and understand the general themes of radio and TV broadcasts.
50+ WEEKS
Advanced
You can read demanding texts and handle long, in-depth discussions. You can understand and express subtle shades of meaning. You are very close to using the language like a native speaker.
EXAM LEVELS
TOEFL®: 0-12
IELTS: 3.0
CAMBRIDGE: 100-120
ALTE: Breakthrough Level
CEFR: A1
EXAM LEVELS
TOEFL®: 13-36
IELTS: 3.5-4.0
CAMBRIDGE: 100-120 KET
ALTE: Level 1
CEFR: A2
EXAM LEVELS
TOEFL®: 37-54
IELTS: 4.5-5.0
CAMBRIDGE: 140-160 PET
ALTE: Level 2
CEFR: B1
PTE: 43-58
EXAM LEVELS
TOEFL®: 55-74
IELTS: 5.5-6.0
CAMBRIDGE: 160-180 FCE
ALTE: Level 3
CEFR: B2
PTE: 59-75
EXAM LEVELS
TOEFL®: 75-91
IELTS: 6.5-7.0
CAMBRIDGE: 180-200 CAE
ALTE: Level 4
CEFR: C1
PTE: 76-84
EXAM LEVELS
TOEFL®: 92-100
IELTS: 7.5-8.0
CAMBRIDGE: 200+ CAE
ALTE: Level 5
CEFR: C2
PTE: 85-100
GUARANTEED PROGRESS
For selected courses, we can guarantee you will progress one recognized level of fluency after at least ten weeks of studying with us. We are so confident that you can do this that as long as you have attended all of your classes, if you still aren't improving as expected, we will give you an extra four weeks tuition completely free. (Available in all our schools in the US, UK, Canada and Ireland -
Terms and conditions apply
)
Our Unique Approach
Our advanced K+ blended learning system helps you learn English fast – in the classroom, on the move, and at home
Our course books explore the key areas of language using real-life situations and current events
Reinforce your progress online: receive instant feedback on additional exercises and tasks
Take your English skills even further online with interactive questions, videos, and audio examples
Socialize and practice your English skills at the same time with teacher-led study clubs
HOW CAN WE HELP YOU GO FURTHER WITH ENGLISH?
CONTACT US
WORK FOR US
See the latest opportunities to join our international team.
JOIN OUR TEAM >
BECOME A HOST
Earn extra income from your spare room and learn about other cultures as a Kaplan host.
FIND OUT MORE >