HOW WE TEACH
EXPERT TEACHERS. TOTAL IMMERSION. SOPHISTICATED LEARNING TOOLS
Try K+ For Free
THE BEST WAY TO LEARN ENGLISH
Our students learn not just in the classroom, but out in the world through adventure and experience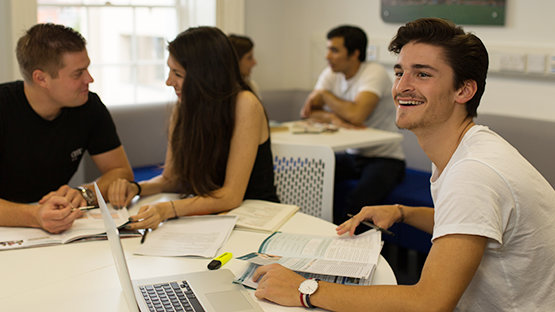 At Kaplan we've always believed that immersion backed up by expert teaching is the most effective way to learn English. We achieve our results through integrating the best of modern teaching methods with the life-enhancing experience of learning by exploring the world.
Our exciting activities and excursions are not just a fun extra; they are an integral part of the learning journey. Our approach enhances the benefits of immersion by placing you in direct contact with the living language in a fun and exciting way.
By helping you discover the amazing attractions of your host country, we provide a focus for practice, discussion and debate, as well as greater insight into an English-speaking culture.
GUARANTEED PROGRESS
For selected courses, we can guarantee you will progress one recognized level of fluency after at least ten weeks of studying with us. We are so confident that you can do this that as long as you have attended all of your classes, if you still aren't improving as expected, we will give you an extra four weeks tuition completely free. (Available in all our schools in the US, UK, Canada and Ireland -
Terms and conditions apply
)
"Immersion is the most effective form of foreign language instruction ever implemented in a school setting.
Studies have shown that immersion students develop near-native skills in understanding and reading a foreign language, and high levels of proficiency in speaking and writing it"
"DR MYRIAM MET
INTRODUCING K+
Our schools offer a seamless blended learning system, integrating the power of full immersion, the best of modern teaching methods, and a sophisticated curriculum you can access wherever you are. K+, our unique package of books, online resources and clubs was designed by an international team of experts to help you learn fast – in the classroom, on the move, and at home.
Tailor your online studies to suit your individual strengths and weaknesses with interactive questions, videos and audio examples
Take the test now!
Explore the key areas of language with interesting topics and exercises based on real-world scenarios
Track your grades, search the grammar catalog and receive instant feedback on online activities, games and quizzes
Socialize and practice your English skills at the same time with teacher-led study clubs
K+ is aligned to CEFR (Common European Framework of Reference) levels.
TAKE A CLOSER LOOK AT K+ Online Extra
K+ Online Extra is part of our online learning package – allowing you to keep working on your English outside the classroom. Click the circles to try out our teaching methods – free!
Choose from grammar, vocabulary or pronunciation and study at your own pace with carefully developed lessons.
Our three-step study process encourages you to learn new material, practise what you know, then review your knowledge with specialised mini tests.
Progress step-by-step and reach fluency the Kaplan way!
Try K+ For Free
"The ability to understand and speak more than one language is not the only benefit of immersion education.
Research shows that students gain additional cognitive, academic and employment benefits."
– "CENTER FOR ADVANCED RESEARCH ON LANGUAGE ACQUISITION, 2007
KITE
Helping you define your learning goals

KITE, our advanced, psychometrics-based testing system adapts to students' responses to build a highly accurate impression of their English proficiency. Understanding your needs allows us to place you in the correct class and fine-tune your learning experience.
Learn more about KITE