What is a University Pathway Program?
Have you ever wondered what it would be like to move abroad and study in one of Europe's most diverse and exciting countries? With our German Pathway program, you can turn those dreams into a reality. 
We can help you gain entry on bachelor's or master's degrees at universities across Germany. You'll have our full support along the way with everything from admissions, visas, improving your German language skills, accommodation, and settling into your new life.  
Due to its thriving and stable economy, studying and working in Germany can open many doors professionally for students across the world. Couple this with the fact that Germany offers free-of-charge education at public universities and low-cost education at private universities, and you can see why it's an attractive opportunity for international students. 
Studying and immersing yourself in German culture will also put you in good stead when applying for jobs after graduation, which has never been easier thanks to the country's 18-month job-seeker visa. 
Take your first steps to success at a university abroad and achieve the career of your dreams with Pathways. 
Find your perfect degree at bachelor's, master's, or doctorate level 
420+ higher education institutes
Study at your dream university in Germany 
With preparatory German language programs based in bustling Berlin and vibrant Freiburg 
1 life-changing experience
Follow your path to a great degree and career 
Your Path to University
With the German University Pathway program, we can help map out your personalised path to a life-changing university education and the career of your dreams – here's how! 
1
Apply to the University Pathway program with your existing qualifications for a free academic evaluation
2
We'll provide you with a personalised study plan and help arrange your arrival in Germany
3
Take your University Pathway program at one of our two schools in Berlin or Freiburg
4
Start studying at a German university or Studienkolleg (foundation course before university)
What Pathways Can Offer You
A program designed for you
Our University Pathway program is created specifically for international students like you and are taught by dedicated and specialist teachers. We help you to improve your German language skills and subject knowledge, so you can achieve success at university and beyond. 
Support at every step
We'll be by your side every step of the way. You can rely on our helpful program for academic support and help integrating into German society - including pre-arrival advice, airport transfers, tailored social activities and dedicated academic and wellbeing care throughout your journey. 
Open doors to a fantastic future
A university degree abroad is an incredible investment in your future life and career. Your international qualification and global experience can be hugely attractive to employers and can help you achieve your professional dreams. 
Download Our UPS Brochure
Pathways worldwide brochure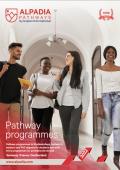 Pathways Brochure - Germany (EN)
Download your copy of the Germany Pathways brochure
FAQs
Read our FAQs to find out more about how our University Pathway program works. If your question is not answered here, please contact a Pathways advisor. 
What academic qualifications do I need to apply directly to a university in Germany?
What are the language requirements to enrol at a German university?
Do I need to attend a Studienkolleg?
What are the academic requirements for entering a Studienkolleg?
Do I need a visa to study in Germany?
Do I need to open a blocked bank account?
Can I work in Germany as a student?
Do I have to leave Germany upon finishing my university studies?